After 28 days on a respirator, hanging in the balance of life and death at Mt. Sinai Hospital in Queens, Gary Mizel was well enough to be sent into a rehabilitation center to regain the strength to hold up his head and walk again. A month later, Mizel was released to his only family member, his sister Vicki, and returned to his home in Astoria. This miraculous story of recovery is being published in Vicki Mizel's newest book, A Sister's Love – How Family Bonds Can Save a Life.
The story begins in April 2020, when Vicki Mizel flew straight into the pandemic to save her brother's life. She had consulted with their family doctor, Timothy Binder, a homeopath, chiropractor, and acupuncturist, about the proper nutrients to get into her brother's body to fight against the deadly Coronavirus.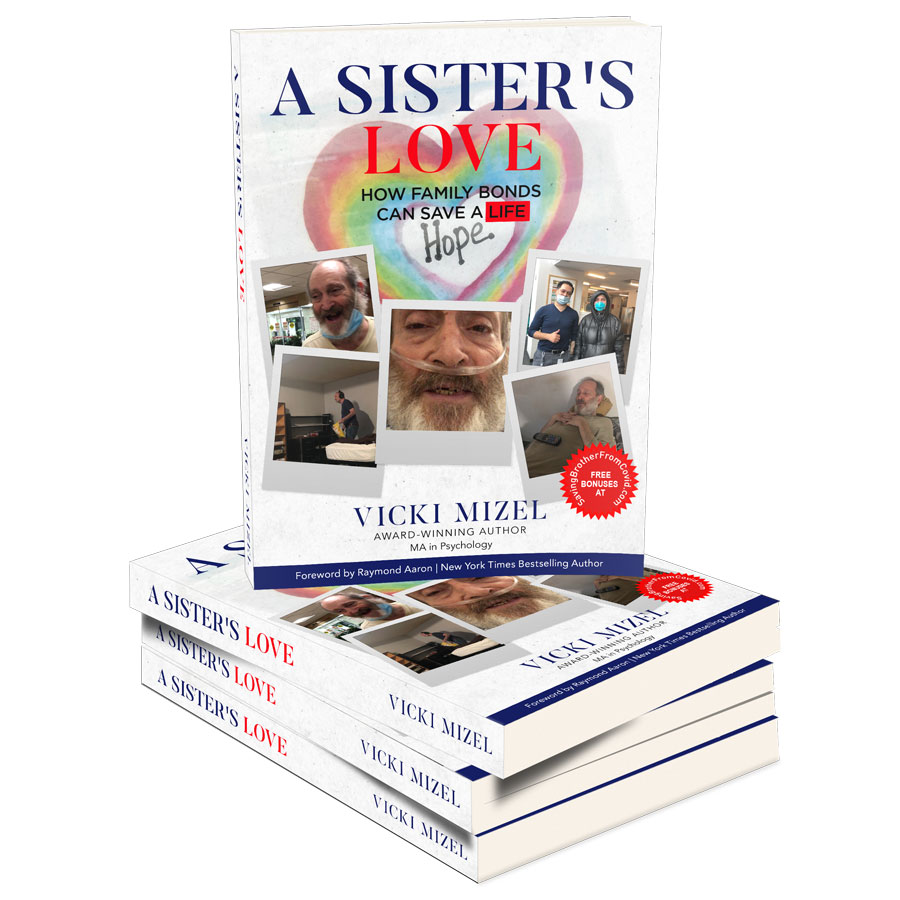 A Sister's Love – How Family Bonds Can Save a Life shares the importance of caring for family and being there for them when hard times arise. Mizel shares her decision to become the caregiver for her brother, and the effort she made to ensure he survived. Her book explains all the obstacles she had to endure to ensure that she could be next to her brother during every step of his recovery, and it gives you a clear picture of what you are capable of if you or a loved one goes through times of struggle.
Gary Mizel, a former stand-up comic, and his sister Vicki are available for interviews to talk about what it took to accomplish this miraculous recovery and to introduce the unique abilities in the restoration of brain function involving clarity and regeneration.
A Sister's Love – How Family Bonds Can Save a Life is available on Amazon. To schedule the siblings for interviews, contact Vicki Mizel at vmizel@aol.com or call 917-547-8822.
Vicki Mizel was born and raised in Tulsa, Oklahoma. She was trained as an educator, psychologist, actor, and public speaker. Her undergraduate degree was from the University of Oregon in Eugene, and her master's in psychology was completed in 2000, at Antioch University in Marina Del Rey, CA.
She has been teaching her Brain Sprouts Memory System since 1983. The memory method is known, with time and practice, to increase neuro connectivity and neural regeneration in the brain and enhance brain activity and healing.
Throughout her career, she has worked with school children, university students, CEOs of companies, and actors, as well as brain injured, dementia, and Alzheimer's patients. She has been an educator, artist, actress, speaker, and now a writer, over the span of forty years.